Known first and foremost for our surgical expertise, the Shea Clinic Ear Nose & Throat Surgery Center serves as the heartbeat of our clinic where leading edge technology and surgical techniques result in the highest quality of care to all patients.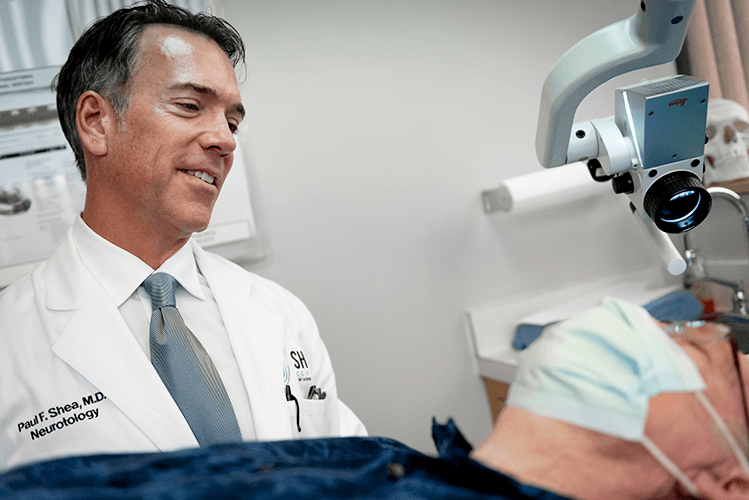 The outpatient surgery center at the Shea Clinic is one of the oldest in the state of Tennessee and has been specifically designed for procedures of the ear, nose, and throat. Our staff of doctors, nurses, and nurse anesthetists is dedicated to providing the highest quality of care to our patients and to making their experience as comfortable and safe as possible. We are devoted to maintaining and enhancing the quality of life for our patients and their families through the ethical practical of medicine, a high degree of individualized service, and sensitivity and compassion for the patient.
At our surgery center, you will receive the highest possible care in our comfortable, convenient, modern facility. Because it is located one floor up from the Shea Clinic's diagnostic facilities, where you will receive your treatment plan and surgical recommendations, your experience in the surgery center will be smooth and seamless. We have two large operating rooms, a state-of-the-art recovery room, a lab for pre-operative testing, offices for surgical scheduling, and a comfortable waiting area for families. Additionally, the surgery center is connected by a walkway to the Sonesta Suites Hotel next door, making it exceptionally convenient for patients travelling from some distance to the Shea Clinic.
If you are scheduled for surgery at Shea Clinic Ambulatory Surgery Center, please make arrangements for a responsible adult to remain with you. Please do not bring minors, especially young children, to the facility. Also, patients who receive general anesthesia cannot drive the on day of their surgery. Please make sure the accompanying adult can drive or other transportation arrangements are made in advance. We have also added some helpful links below. You can download and review your physician's postoperative instructions prior to your visit. Your physician or someone from our staff will be happy to answer any further questions.
When you lose your hearing, those around you suffer the most.
Connect with your loved ones