Shea Hearing Aid Center is a Physician Owned and Operated Practice. Passionately envisioned in 1926 by John J. Shea., Sr., M.D., The Shea Clinic Ear Nose & Throat has a reputation of medical eminence that is world renowned. What makes us the best? Our dedication to our patients.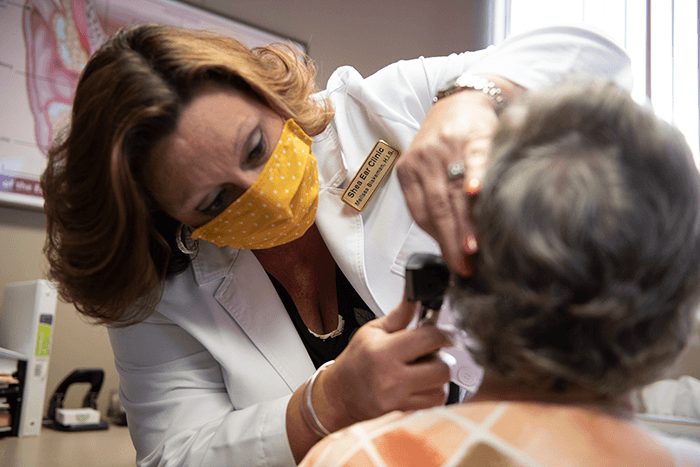 The Shea Clinic Ear Nose & Throat is internationally recognized as one of the world's foremost otology practices, rendering leading edge quality care for hearing loss, ear diseases and related medical concerns. With this in mind, the Shea Hearing Aid Center developed into a full service facility staffed by trained audiologists and dispensing professionals committed to excellence. Our staff utilizes the most advanced diagnostic and fitting equipment available insuring those who suffer the frustration of hearing loss have an experience that exceeds expectations. Our caring staff strives to successfully educate our patients and their loved ones about their specific hearing loss, and help them determine the right plan of action to treat it.
We cordially invite you to "Come Hear The Shea Way".
Our Guarantee
Our commitment to patient care was built around the mutual agreement of honor, integrity and trust with each patient. As a part of the nationwide NuEar network, we aim to provide the greatest hearing care experience possible by abiding to the following standards that define us:
&nbsp
Comprehensive Evaluation

We evaluate your hearing, communication needs and goals for your life.

Recommend Only What Needs Recommending

Because we evaluate all your hearing and communication needs, we will recommend a treatment plan that is unique to you and designed to meet your needs.

Clear Understanding of the Hearing Journey and Results

We make sure that you understand what steps will be taken on your journey to better hearing and what the realistic outcomes are for those steps.

Seeing and Hearing the Benefit

We will verify that the hearing instruments and accessories that go with them are working and provide the benefit that you need. This verification may be done through several clinically adopted tools such as Real Ear Measurement, Speech Mapping or Sound Field Verification.

Treatment is More Than Just an Office Visit

We work with you to create a long-term treatment plan, define follow-up appointments, perform regular ongoing evaluations, and any additional care that you may need to make sure you stay satisfied with your hearing in the years to come.

Warranty for One, Warranty for All

When you work with NuEar, you are working not only with your local hearing healthcare professionals, but also the national network that will honor the warranty and support and service guarantees on all products.

Commitment for a Lifetime

All products receive free cleanings and testing for their lifetime.