Welcome to the Shea Clinic Patient Resources Page. Here you will find all the documents you might need to prepare you for a visit to the Shea Clinic.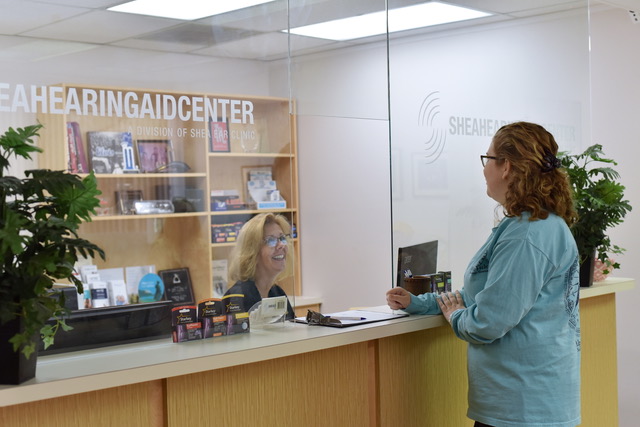 We look forward to meeting you during
your initial visit to our office.
APPOINTMENTS
All patients and referring physicians can schedule office visits with our appointment scheduler at 800-477-SHEA or locally at 901-761-9720. You may also initiate scheduling your appointment by clicking here.
This first visit establishes a vital foundation for our relationship with you. At this time, we'll help you get acquainted with our services and learn about your particular diagnostic and treatment needs. We'll make sure to obtain important background information, like your medical history, and give you time to get to know your physician.
To understand what to expect, and to facilitate this initial visit, please read through the information provided in this section. You'll find all the practical information you need, such as directions to our office, practice hours, payment policies and more. Please take the time to print out and complete the new patient forms in advance of your appointment.
WHAT TO EXPECT
Being well-prepared for your appointment ensures the doctor has all of the needed information to provide the best possible care for you. It will also help relieve any unnecessary anxiety.
Because we conduct comprehensive evaluations during first visits, please be prepared to spend the entire day at our facility. Carefully review the information provided in your new patient packet and educate yourself on your symptoms by reviewing the content on this web site. We look forward to your first visit.
WHAT TO BRING:
Your Health Information Card or Information
A complete, accurate, and up to date list of all medications you are taking (a form for this is included in the new patient packets below)
A copy of recent CT scans or MRI's relevant to the condition we are seeing you for (in addition to the reports, please obtain the studies on disk if possible)
A copy of any medical record or test result specific to the condition for which we are seeing you
Your spouse or a family member to help with questions, especially if there is a hearing loss or speech barrier
Written parental authorization if someone other than a parent / legal guardian accompanies a minor child 0-18 years of age (see consent form below)
Your insurance referral information if one is required by your insurance plan
Complete all forms included in the "New Patient Packets" below in advance of your appointment and bring with you.
Understand your insurance benefits and come prepared to pay your insurance co-pay and/or deductible
If you are being evaluated for dizziness, vertigo or loss of balance, please discontinue any of the following medications 5 days prior to your visit: Valium (diazepam), Antivert (meclizine), Dramamine, Phenergan (promethazine), Transderm Scop (scopolamine), Xanax (alprazolam), Ativan (lorazepam) and antihistamines such as Claritin or Zyrtec.
Reading materials or a laptop computer. Your visit might take up a considerable part of the day. Please leave plenty of flexibility in your schedule for additional testing or consultation that may be required.
PATIENT FORMS
Please print and complete these forms to help expedite the registration process. Be sure to complete the form requesting an accurate list of your current medications.
Patients:
Physicians Only:
SURGERY PATIENTS
If you are scheduled for surgery at Shea Clinic, please make arrangements for a responsible adult to remain with you.  Please do not bring minors, especially young children to the facility.  Also, patients who receive general anesthesia cannot drive the day of their surgery.  Please make sure the accompanying adult can drive or other transportation arrangements are made in advance.  Lastly, we've added some helpful links below.  Note that you can download and review your physician's postoperative instructions prior to your visit.  Your physician will be glad to answer further questions.
Your Child's Treatment
Shea Clinic evaluates, diagnoses and treats children. In order to make your child's visit as productive as possible, we request parents do the following prior to your child's appointment.
Print and Complete the Shea Clinic Registration Form for Minors
Talk to your child about the upcoming visit, including information like the doctor can help ears feel better. Explain the doctor may use a light to look inside the ears or ask the child to open their mouth.
Practice sitting still, explaining that this helps the doctor.
Talk about pain and how the new doctor can help with the pain.
On the day of your appointment, allow for plenty of time. In order to alleviate anxiety or confusion sometimes felt by young patients, our physicians plan to spend extra time with younger patients to develop a rapport before the formal evaluation. Your presence is important as this is an ideal time to ask questions, help your child communicate, and reassure the child through the process. We encourage all questions and provide as much information as possible so parents feel confident at home with post-treatment recommendations.
Traveling Patients
At the Shea Clinic, we fully understand the reality that some patients and families travel from afar for care. With that in mind, the Shea Clinic has access to an adjacent hotel. Visiting patients and families can easily walk from the newly-renovated The Sonesta ES Suites via a breezeway. Our entire practice is located just minutes from Interstate 240 and Poplar Avenue, a major intersection in East Memphis.
Centrally located between Germantown and Memphis, The Shea Clinic offers travelers many convenient dining and lodging options. Several key travel organizations in the area can provide additional information.

INSURANCE
Today's world presents ever-increasing challenges for both patients and providers alike when it comes to health insurance. Our experienced staff can answer questions or provide direction. However, it is important for you to review the following prior to your visit because all plans and coverage are different. The Shea Clinic does not accept Medicaid or Tricare. Self-pay patients are required to pay a $500.00 deposit before services are rendered.
When reviewing your own insurance, it's important to answer the following questions to avoid any payment problems. All payments will be processed at the time of your visit.
Referring physicians can mail, fax or email Physician Referral Forms to:
Shea Clinic
Attention: Medical Records
6133 Poplar Pike
Memphis, TN 38119
Fax: (901) 680-1992
Email: medrecs@sheaclinic.com

REQUESTING MEDICAL RECORDS
Medical records are the one of the most critical elements of the physician-patient relationship. Accordingly, we handle the receipt and release of all medical records with the utmost care and respect for patient privacy and confidentiality.
The HIPAA (Health Insurance Privacy and Portability Act) Privacy Rule establishes national standards to protect individuals' medical records and other personal health information. These standards apply to Shea Clinic and require appropriate safeguards to protect the privacy of personal health information and set limits and conditions on the uses and disclosures that may be made without patient authorization. Therefore, the following policies and procedures are in place pertaining to requests for medical records:
Medical records, including x-rays, letters, insurance forms, and narrative reports will not to be released without express written authorization from the patient.
Medical records, including x-rays, letter, insurance forms and narrative reports will not be released to any family member, including a spouse, without express written authorization from the patient.
Medical records sent by another physician cannot be copied and sent from our office to the patient, another physician, insurance carrier, worker's compensation caseworker, or an attorney.
Medical record fees apply for the retrieval, copying and delivery of medical records and payment must be received before any medical records are sent.
Medical records requests must be in written form from the insurance carrier, attorney, other physicians or the patient.
In some cases, other physician offices will call and request a patient's medical records be faxed to their clinic. We will only honor this request in cases where the requesting physician either referred the patient to our clinic or we referred the patient to the requesting physician's office.
In some cases, worker's compensation case workers will call and request a patient's medical record to be faxed. This is usually acceptable as the patient has already signed authorization through worker's compensation.
The medical records fee which must be paid in advance is largely dependent on the size (number of pages) of the medical record. The exact amount of the fee, which must be paid in advance, may be requested by sending a request to medrecs@sheaclinic.com or calling our Medical Records department at 800-477-SHEA or 901-761-9720, extension 623.
Requests for medical records may be mailed to Shea Clinic Ear Nose & Throat and to the attention of our Medical Records Department, or faxed to (901) 680-1992.
Shea Clinic will maintain medical records for a period of not less than 10 years from the physician's or Shea Clinic's last professional contact with the patient except in the case of minors. Medical records of minors shall be retained for a period of not less than 1 year after 18 years of age or 10 years from the physician's or Shea Clinic Ear Nose & Throat's last professional contact with the patient or the patient's legal guardian, whichever is longer.
Properly requested medical records will be processed within 10 business days.
When you lose your hearing, those around you suffer the most.
Connect with your loved ones