Dr. Clayton Whitfield
STAFF AUDIOLOGIST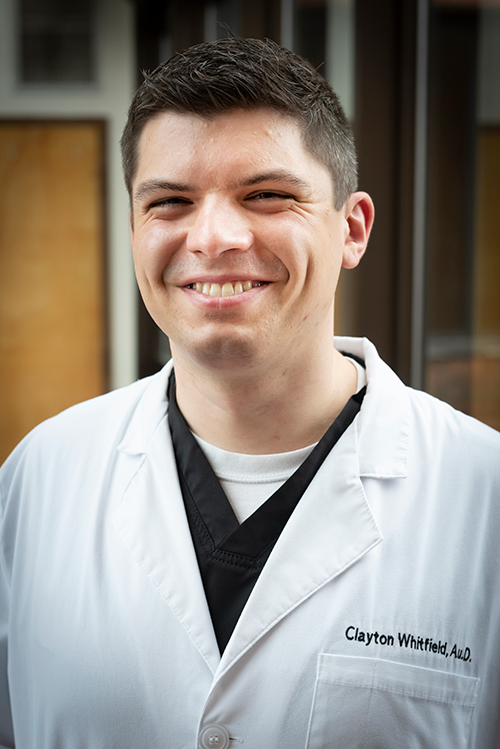 Dr. Clayton Whitfield joined the Audiology Department at Shea Clinic in May of 2021. He is board-certified in Audiology and holds his Certificate of Clinical Competency in Audiology (CCC-A) as a member of the American Speech-Language-Hearing Association (ASHA). He acquired a Bachelor of Arts (B.A.) in Communication Sciences and Disorders at Harding University in Searcy, AR. He later received his Doctorate in Audiology (Au.D.) from the University of Arkansas for Medical Sciences after completing his clinical externship at the American Institute of Balance in Largo, FL. Dr. Whitfield is well-published and has had extensive training in diagnostics and treatment of hearing, balance and tinnitus disorders.
Dr. Whitfield personal interests include Brazilian Jiu-Jitsu, volleyball, reading, hiking, and cooking with his wife.
Publications & Presentations Include:
Manchaiah, Vinaya, Amlani, Amyn, Bricker, Christina, Whitfield, Clayton, & Ratinaud, Pierre. (2019). Benefits and Shortcomings of Direct-to-Consumer Hearing Devices: Analysis of Large Secondary Data Generated From Amazon Customer Reviews. Journal of Speech, Language, and Hearing Research. 62. 1-11. 10.1044/2018_JSLHR-H-18-0370.
When you lose your hearing, those around you suffer the most.
Connect with your loved ones