Victoria L. Lim, M.D.
STAFF PHYSICIAN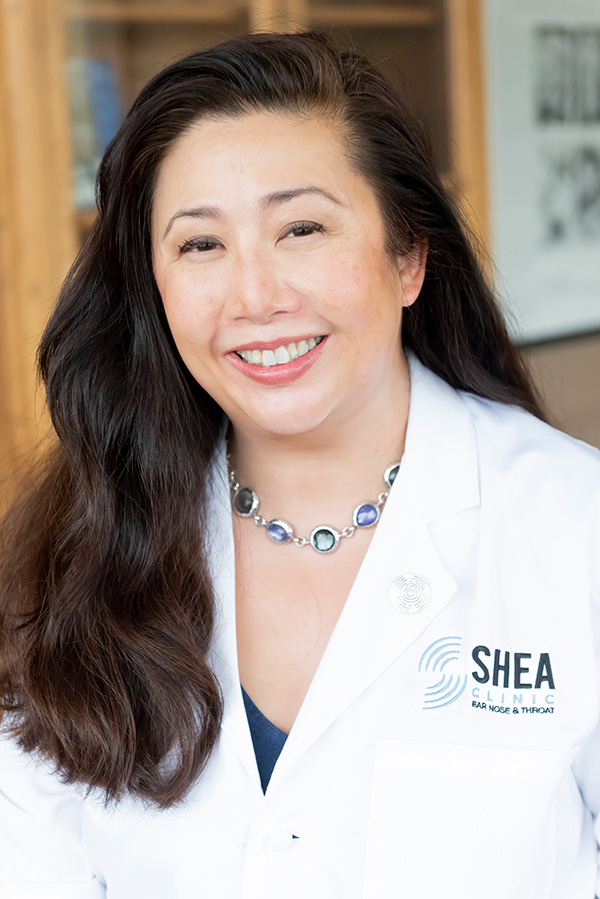 Victoria L. Lim, M.D. was born in San Francisco, California and spent her formative years in Little Rock, Arkansas, where she developed her life-long passion for medicine. Her mother was a registered nurse, and her uncle is an otolaryngologist (ENT physician) whose enthusiasm for medicine deeply resonated with Dr. Lim. She decided at a young age that becoming a physician meant upholding her family's tradition by constantly challenging herself to excel and proving her unique value to her patients.
As an undergraduate at Washington University in St. Louis, she was pre-med and worked during the summers doing biomedical research. Dr. Lim graduated from Washington University with a Bachelor of Arts degree in Biology, and did postgraduate HIV research at the University of California at San Francisco. She coauthored the paper, "Designing Therapies for the Treatment of AIDS" published in the Journal of Biotechnology, Sep. 1989.
After learning that a close family member had developed a severe medical condition, Dr. Lim returned to Little Rock to attend medical school and to be near her family. During medical school, her commitment to excellence was recognized by her election to the Alpha Omega Alpha honor medical society. She was also awarded the Barton Scholarship which is given to the top medical students in their junior and senior years. Dr. Lim also earned an Outstanding Resident Teaching Award as a surgery intern and was recognized multiple times for her outstanding patient care by both the medical staff and patients. Additionally, she received a Resident Research Award for her research in the prevention of oral cancer using glutamine, an amino acid. Dr. Lim presented her research at the American Academy of Academic Surgeons in Dallas, Texas, November, 1997.
After residency, Dr. Lim moved to the Memphis area. She is a Board Certified Otolaryngologist and has extensive experience in sinus surgery, general otolaryngology, and pediatric otolaryngology. Dr. Lim is one of the first otolaryngologists in the Memphis area to perform in-office balloon sinus surgery. She is responsible for the creation of a regional Sinus Center of Excellence which brings together designated "Champion" surgeons with the most advanced equipment and techniques to treat sinus disease. Dr. Lim was also the first otolaryngologist in the Memphis area to perform in-office eustachian tube balloon dilation for the treatment of eustachian tube dysfunction.
Dr. Lim has served as a medical correspondent for Fox13 TV Memphis, has been featured in the Commercial Appeal, and has been the focus of the Physician Spotlight in the Memphis Medical News. In 2020 and again in 2021, Dr. Lim was designated a "Memphis Top Doc" by the national physician led research team of Castle Connolly Medical Ltd. Dr. Lim's designation was published in Memphis Magazine June 2020 and June 2021. In January of 2021, Dr. Lim was also named an "Exceptional Women in Medicine" in the Memphis Flyer.
Dr. Lim also volunteers her medical services at Church Health in the Crosstown Concourse. She believes in giving back to the community and feels privileged to be able to serve the residents of Memphis. Dr. Lim's philosophy on patient care centers on the belief that physicians should treat their patients the way that they would want to be treated: with kindness, empathy, and competence. Dr. Lim also believes that being a parent has helped her develop an intrinsic compassion for her pediatric patients and their parents.
In her free time, Dr. Lim, like her father, is an artist and enjoys painting. She is also an avid reader, amateur jewelry designer, and an upcoming children's book author. Dr. Victoria Lim met her husband, Dr. Phillip T. Zeni Jr., an interventional radiologist, during medical school, and after finishing their training they moved to Memphis. She and her husband have two children and a sweet puppy called Presley, named after Elvis of course!
When you lose your hearing, those around you suffer the most.
Connect with your loved ones