PAUL F. SHEA, M.D.
STAFF PHYSICIAN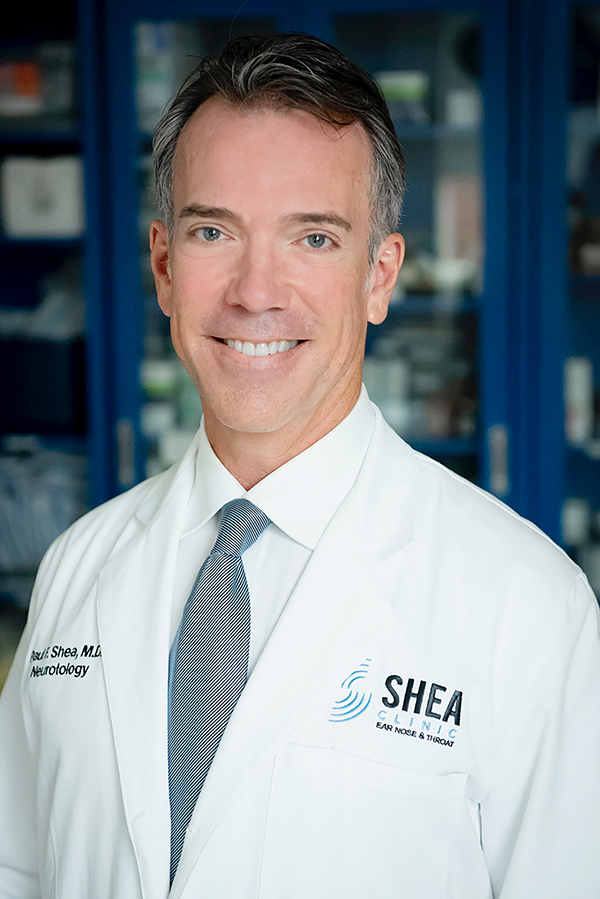 As a fourth generation Shea to pursue a career as an ear, nose, and throat doctor, Dr. Paul Shea grew up in a culture of medicine and worked alongside his father, pioneering ear surgeon John J. Shea, Jr., M.D., from a young age.  Not only has he continued a remarkable legacy, but Dr. Paul Shea has made significant contributions to his field through research, teaching, and community involvement.
Since he was a young boy, Dr. Paul Shea watched his father operate on the ears of patients suffering from hearing loss, chronic infections, and many other debilitating conditions.  It is not an exaggeration to say he literally grew up in an operating room.  Twice in grade school he took his class on field trips to the Shea Clinic.  As a teenager, Dr. Paul Shea worked at Applied Research Corporation, a company started by his father that designed specialized drills and other instruments used in ear surgery.  Dr. Paul Shea graduated from Vanderbilt University in 1988 with a B.A. in English and took his pre-med courses as electives in order to have a well-rounded liberal arts and science education. Before medical school, Dr. Paul Shea worked in the research lab of Charles Norris, Ph.D. at Tulane University, where he studied the effect of streptomycin on hair cells, the specialized nerve endings in the inner ear.  This work provided the basis for the intratympanic perfusion procedure that was developed at the Shea Clinic in the 1990's and is now widely used in the treatment of Meniere's disease and other disorders of the inner ear.
Dr. Paul Shea graduated from medical school at Tulane University in 1995 and returned to Memphis where he completed a six-year residency at the University of Tennessee Health Science Center consisting of two years of general surgery followed by four years of Otolaryngology – Head and Neck Surgery. He then completed a fellowship in Neurotology at the Carolina Ear Research Institute in Raleigh, North Carolina under John T. McElveen, M.D.  Dr. Paul Shea earned his board certification in Otolaryngology-Head and Neck Surgery in 2002 and was recertified in otology in 2011.  He started at the Shea Clinic in 2002 and has a busy practice in otology and neurotology with a special interest in chronic otitis media, otosclerosis, Meniere's disease, intratympanic perfusion, positional vertigo, cochlear implantation, and acoustic neuroma.
In 2012, Dr. Paul Shea published his Triologic thesis in The Laryngoscope "Hearing Results and Quality of Life After Streptomycin/Dexamethasone Perfusion for Meniere's Disease". He is an associate clinical professor at the University of Tennessee Department of Otolaryngology-Head and Neck Surgery and was elected president of the Memphis Society of Otolaryngology in 2021. He was also elected to the prestigious American College of Surgeons in 2015. In addition, he is a member of the Triological Society, the American Neurotologic Society, the American Academy of Otolaryngology-Head and Neck Surgery, and the Tennessee Medical Society. He has privileges at the Shea Clinic and Methodist University Hospital in Memphis. He is a former board member of the Memphis Oral School for the Deaf, where he helped lobby the Tennessee legislature in 2008 to pass a law mandating universal hearing screening in newborns.
Dr. Paul Shea's other interests include travelling, fitness, tennis, snow skiing, live music events, and restoring classic automobiles.
When you lose your hearing, those around you suffer the most.
Connect with your loved ones