J. GREGORY STAFFEL, M.D.
STAFF PHYSICIAN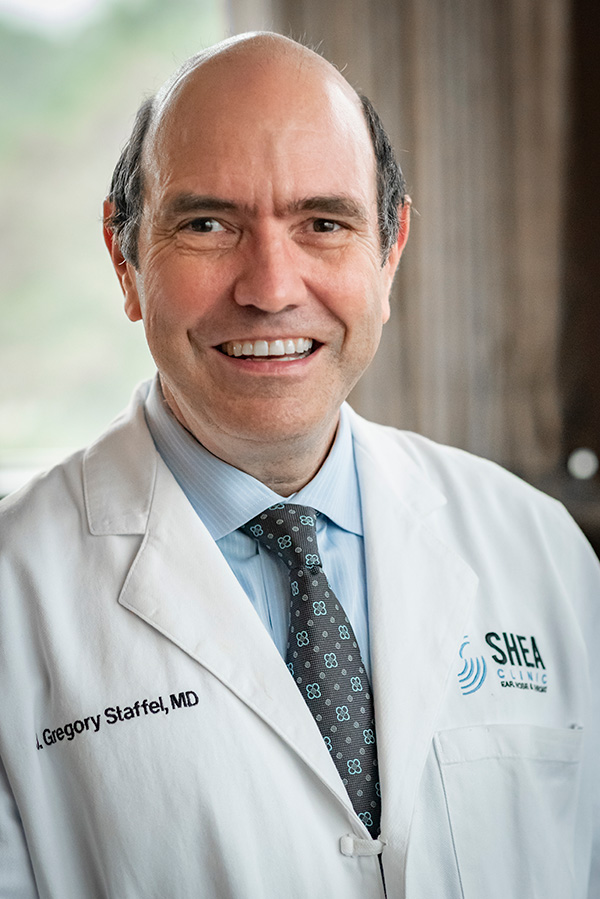 A native of Texas, Dr. Staffel brings a wealth of experience and expertise to his practice at the Shea Clinic.
In his early years, his extensive travels in Europe led to a great understanding of cultural diversity as well as a fluency in French. While initially interested in engineering, his commitment to greater giving led him to medicine. Attending medical school at the University of Texas in San Antonio, Dr. Staffel graduated with honors. During this time, Dr. Staffel attended a lecture that profoundly influenced his career. When first exposed to facial plastic surgery, especially rhinoplasty, he began a lifelong pursuit of learning, teaching and practicing nasal and facial plastic surgery.
He trained for five years during his residency at the University of North Carolina, earning the Nathan A. Womack Award, given to the most promising surgical resident. Following his residency, he completed a fellowship at the American Academy of Facial Plastic and Reconstructive Surgery under Dr. Richard Farrior, an original pioneer in cosmetic nasal and facial surgery. After his fellowship, Dr. Staffel was immediately offered numerous academic positions throughout the country and accepted an Assistant Professorship at the University of Texas Medical School at San Antonio. There, he worked closely with the best nasal plastic surgeons in the world, perfecting his technique.
Grateful for his own learning experiences, Dr. Staffel went on to write and publish "Basic Principles of Rhinoplasty" which is endorsed by the American Academy of Facial Plastic and Reconstructive Surgery and provided to every otolaryngology resident training in the United Staes. During his academic career, he also authored "Primary Care Otolaryngology" which is currently part of medical student curriculum. Dr. Staffel's natural passion for teaching and his clinical experience has earned him many awards from peers and students.
Dr. Staffel joined the Shea Clinic in 1998 and has a busy practice in general otolaryngology and facial plastic surgery. His special interests include nasal and facial plastic surgery, sinus surgery, cosmetic nasal surgery, face lifts, eye lifts, liposuction, chemical peels, and skin care. His expertise also covers cosmetic and reconstructive surgery of the external ear. In addition, he also sees patients for allergy, snoring, and sleep apnea.
Dr. Staffel is married to Marian, and they have a son, Jon, and two labs, Charlie and Zoe.
When you lose your hearing, those around you suffer the most.
Connect with your loved ones