Christopher J. Hall, M.D.
STAFF PHYSICIAN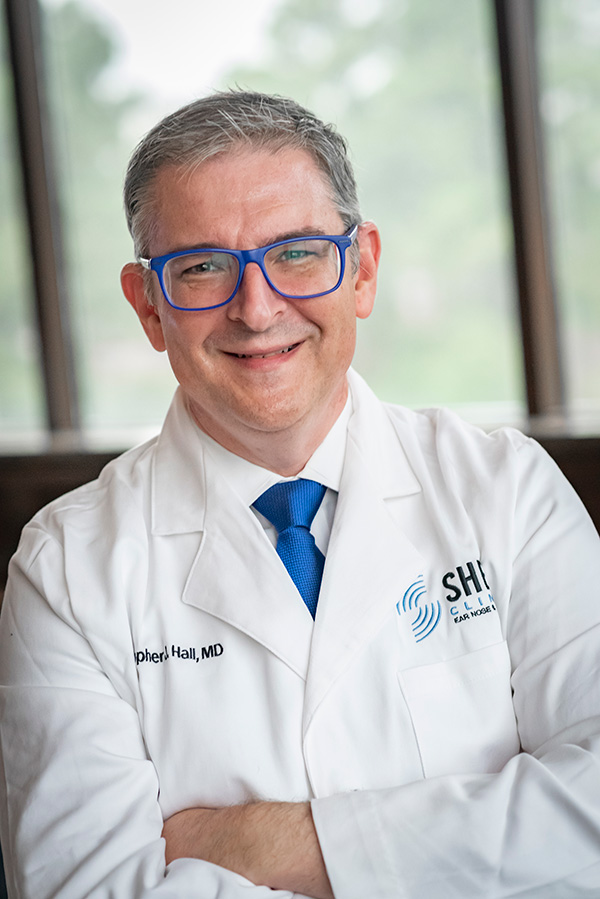 Christopher J. Hall, M.D. was born in west Tennessee. He is an accomplished saxophonist and composer, but he always had a passion for science and medicine. While in high school, he studied saxophone at the esteemed Interlochen Center for the Arts while also winning competitions in science and physics.
In college, Dr. Hall continued his studies in music, majoring in saxophone performance and music composition while also preparing for medical school. It was in college that he met Dr. John Shea, Jr., who helped him finally realize that medicine and surgery of the ear could encompass both his passion for music and for medicine. Dr. Shea always had a passion for teaching and mentorship, but maybe he saw something of Hall's potential because it was then that Dr. Shea expressed hope that the future Dr. Hall might join him at Shea Clinic when his training was complete.
Dr. Hall completed medical school at the University of Tennessee and went on to complete his surgical internship at Yale University before returning to the University of Tennessee for the completion of his otolaryngology residency. Dr. Hall trained in ear surgery under the tutelage of Dr. John Shea, III, Dr. Coyle Shea, Dr. Charles Bruce MacDonald, and Dr. Gale Gardner. After completion of his otolaryngology training, Dr. Hall completed a fellowship in facial plastics and reconstructive surgery with Dr. John Hodges.
Dr. Hall is an assistant professor of otolaryngology at the University of Tennessee Department of Otolaryngology. He is board certified in Otolaryngology and Facial Plastic and Reconstructive surgery. Dr. Hall enjoys teaching residents at the Veterans Administration Hospital part time while maintaining a busy private practice schedule with his colleagues at Shea Clinic.
When you lose your hearing, those around you suffer the most.
Connect with your loved ones